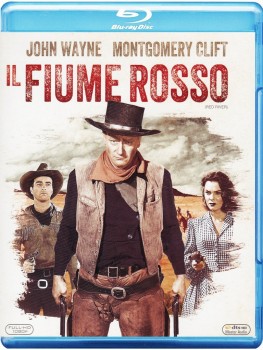 Titolo: Il fiume rosso
Titolo Originale: Red River
Genere: Western
Nazione: USA
Anno: 1948
Durata: 125
Regia: Howard Hawks
Cast: John Wayne, Montgomery Clift, Joanne Dru, Walter Brennan, Coleen Gray, Harry Carey Jr., John Ireland, Noah Beery Jr., Paul Fix, Hank Worden, Ray Hyke, Wally Wales, Billy Self, Ivan Parry, Paul Fierro, Don White, Shelley Winters
Trama:
Thomas Dunson, giovane pioniere, lascia la carovana con la quale ha iniziato la traversata del Texas, per dirigersi con un solo compagno, verso un'altra zona. Dopo la sua partenza, la carovana viene attaccata dagli indiani e distrutta. Tom adotta come come figlio l'unico superstite, un ragazzo. Trovato un terreno adatto, Tom vi pianta le tende. Due dipendenti del proprietario gli intimano di andarsene: egli ne uccide uno e non si muove. Con gli anni, ed attraverso nuove lotte ed uccisioni, l'allevamento di Tom prospera ed egli dispone di migliaia di capi. Ma per trarne partito, occorre un mercato più propizio: ed ecco Tom in viaggio, con la sua mandria, attraverso l'America. Il lungo viaggio comporta enormi disagi e gravi pericoli...
Nome versione: Ciame
Fonte Video: BDFULL
Fonte Audio: BDFULL
Tracce Audio: AC3 iTA | DTS-HD/AC3 ENG
Sub: Ita,Eng
Dettagli:
Screen:
Warning! You are not allowed to view this text.
Warning! You are not allowed to view this text.
PER ESTARRE I MIEI FILE DOVETE UTILZZARE WIN-RAR 5 PER WINDOWS E UNRARX 2.2 PER MAC MANUALMENTE SENZA USARE JDOWNLOADER
NON CI SONO PASSWORD NEI MIEI ARCHIVI
Per problemi con i file o domande contattatemi tramite PM
Se Ti piace il mio lavoro sostienimi acquistando o rinnovando il tuo abbonamento premium tramite questi banner: